Hal with a 16 lbs. striper!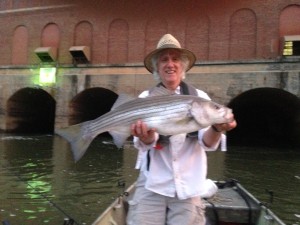 "The Southern Fishing Report" By Ken Sturdivant
106 Hickory Ridge Drive
770 889 2654
Cumming Georgia 30040
June 6, 2014
LAKE LANIER IS .08 FEET UP FROM FULL POOL, THE MAINLAKE IS CLEAR AND CREEKS ARE SLIGHTLY STAINED & 78 DEGREES 
This Lake Lanier Bass report is from Jimbo Mathley. www.jimboonlanier.com 770 642 7764
Bass fishing is good. The lake temperature is in the low to high 70's to low 80's. The water is lightly stained in the back of the creeks and clear on the main lake both north and south. The post spawn fish are continuing to get more aggressive and the bite is improving each day. The main lake fish have been up shallower on the points and humps and are continuing to move out deeper. However, you can still find them up shallow early in the mornings. In general though, look for 15 to 25 feet to be holding right now, especially on the rocky places with brush. There are now lots of fish getting in and around the brush in 20 to 25 feet, and they will eat. You can get them to come up for top water and swim baits at times, if not that, a fluke and a Fish Head Spin has been good. Last resort is the Shaky Head and jig, which have been very good at times as well. Do not discount these baits. Every day is a process of figuring out how aggressive the fish are and how far they will come up. If the answer is not at all, then the jig and worm are good choices. With the full moon coming next week and the fish progressing nicely, we look for a great top water bite next week, and I have some dates open! Overall, I have the following dates left open for the month: June 9, 10, 12, 13, and 24 (afternoon), 26, and 30. June is traditionally a great top water season and a great time to go spot tail minnow fishing. Give me a call and let's go fishing.
This Striper report is from Captain Ken West and Captain Mike Maddalena of Big Fish On Service 404 561 2564. www.bigfishonguide.com
Striper fishing is very good. The primary pattern continues to be the creek mouth and main lake points. We are catching both spotted bass and stripers off the same point. There are some big 20+ pound fish moving up shallow on and off the points during the day. Weighted free lines on planner boards and out the back of the boat has been the primary technique. We are running weighted free lines with one or two split shots 20 to 100 feet back with Herring. We keep thinking this technique will give way to a down rod bite but so far it has held. We keep a couple of down rods in the water when we are pulling baits and will switch if the current flat line bite slows. Once the sun gets up in late morning the Stripers are moving out into a little deeper water, still off the points, but over a 30 to 50 ft bottom. We plan on pulling umbrella rigs this week and will have a report next week. Clipping points with the Umbrella rig should start to work over the next couple of weeks. I have been fishing mid lake but there are fish being caught lake wide.
Father's day is June 15th. Remember the times your Dad took you fishing? Maybe it is time for you give your Dad a gift Certificate for a Striper Fun Fishing trip on LakeLanier for you and your Dad with Big Fish On Guide Service.
This Lake Lanier Crappie report is from Dan Saknini, President of the Lanier Crappie Angler's Club. 404 425 4059
Crappie fishing conditions are good to excellent. The fish are pulling out to deeper docks, as always, with structure. It is an added bonus if you can find a good sized brush pile outside the dock. In this case, stay thirty to forty feet away from the dock and cast your jig to the other side of the brush. Jig it slowly over the brush toward the boat. You may want to experiment and let it fall a little into the brush. This time of the year, four pound high visibility line is very critical. One twenty fourth ounce soft body Jigs and hair jigs are working well. Also, the bigger fish are moving on stand alone brush piles in the backs of creeks. Those brush piles are in twenty to twenty five feet of water, topping out at ten to fifteen feet below the surface. As always, the more brush piles you hit and the more docks you fish, the better your chances of boating more fish. If a spot isn't working, move on. Four to eight mid to large sized fish is about average per stop. So if your hits are yielding only smaller fish, move on to explore other docks or brush piles. Stay safe on the water, wear your life jacket! Dan Saknini is an avid fisherman and President of the Lanier Crappie Anglers Club.
Anglers have a new Bait Shop on Buford Dam Road at the Buford Dam Quick Stop at 2595 Buford Dam Road. Open daily from 6 to 6, Marty Kenney has Herring and other baits like shiners ready to go to the lake. Please call him at 706 867 5102 and say hello.
Call Ken Sturdivant about the ON THE WATER SCHOOLS for Sonar or the Rods, Reels and Lures for Bass or a full day STRIPERSSchool. Call 770 889 2654 for details. Send an e mail to ken@southernfishing.com
June 6, 2014
WESTPOINTLAKE IS FULL, STAINED & LOW 80'S
Bass fishing is good. Most of the largemouth bass have already spawned and the fish are small males. The fish are now roaming the points and pockets looking for food. If you will continue to move around, these fish can be found with a number 5 Shad Rap in baby bas and shad patterns being the best colors. Most of the day Texas rigged and Carolina rigged worms and lizards will work best. Try spinner bait in small to medium sizes as well as buzz bait. Use a white buzz bait in any main lake pocket lake wide. The fish are very shallow early and be sure to get a white buzz bait and the same bait in the ½ ounce all white with some green in it ON the banks!
Anglers have GPS Bass fishing locations and a BASS FISHING ANGLERS ST POINT LAKE book for sale. Ask ken for a sample. This book is $39.00. Sample just e mail ken@southernfishing.com
June 6, 2014
LAKEALLATOONA IS FULL, STAINED & LOW 80'S
Bass fishing is good and the morning top water window is getting smaller and smaller on the main lake within the last week or so as the fish move into their deeper summer haunts. Fish are hitting jerk baits such as the Pointer 100 and Flash Minnow 95,110 and Senko's in blue pearl color. Work your way into the creek or river with a good fast reaction bait working the wood cover and bluff walls thoroughly and work your way back down the river pitching and flipping into lay downs with a watermelon Yamamoto Tube bait. The good thing about flipping a tube is its unique spiral down action as well as its unique shape to work through heavy cover and not to mention bass love to hold onto salt injected baits longer giving you more time to set the hook. Fish the main brush piles in the 12 to 15 foot range with Spot Stickers tipped with a 5 inch Watermelon Kut Tail worm on 8 pound fluorocarbon line.

Anglers, we have a book on BASS FISHING LAKE ALLATOONA that has GPS 50 coordinates also. Ask for samples of the book and the coordinates from ken@southernfishing.com Try these two N 34 10 846 W 84 43 128 Good spawning pockets in McCaskey Creek. Use a Sammy 100 and Big swim baits around the schooling fish. N 34 10 294 W 84 43 092 Good spawning area around BartowCounty ramp with a Sammy 100 and big swim bait area.
This Lake Allatoona Fishing s Report has been brought to you by Robert Eidson of First Bite Service, 770 827 6282 www.firstbite service.com Lake Allatoona, Georgia
eidson6260@att.netwww.firstbite service.com

Line side fishing is good. Up north there are good numbers of line sides being caught at the mouth of Sweet Water also the flats at the Delta and in the S Turns. Mid lake is also producing good numbers from Kellogg to Bartow Carver. And the south end is also fishing well from the dam all the way up Allatoona Creek to the LakeAcworth spillway. Free lining shad early is the ticket to getting your day started off right. After the sun comes up, look for schools of Hybrids on your Lowrance off of any main lake points and humps. We are catching most of our fish in less then 30 feet of water fishing right on the bottom. The key to loading the boat is fresh bait. Change your bait often and be sure to take plenty with you. 
Call Ken about the Southern Fishing Schools exclusive ON THE WATER SCHOOLS for SONAR or Rods Reels and Lures for Bass. Call for 770 889 2654 or ken@southernfishing.com for more info
June 6, 2014
LAKEHARTWELL IS AT FULL POOL & LOW 80'S
Bass fishing is fair. The warmer surface temperatures are driving the large mouth bass down to deeper and cooler water. Keep a Zoom pearl Super fluke ready all day. The spotted bass are still roaming the banks early in the morning and by using a Number 5 RS Shad Rap or Jointed Shad Rap, you can catch a limit of small keeper bass. An occasional three pounder will show up crank baits on ten pound test line and a good cranking rod. Wood and rock combination on the main lakes seems to be the favorite places to fish this week. Carolina rigged plastics on wood and docks near deep water are where most of the anglers are concentrating their efforts. A very slow presentation will be the key here.
Come fish with Rick on LakeHartwell and learn his top secret approaches and strategies that will be used by the pros in next year's Bass Master Classic. Contact Jimbo on Lanier at 770 542 7764 to book a trip with Rick. The book BASS FISHING LAKE HARTANGLERS LL is available. Anglers have opened this lake up to avid bass anglers with over 100 key bass fishing holes. ken@southernfishing.com for a sample. See our web site for Rods Reels and Lures for Bass DVD on sale.
June 6, 2014
CLARKS HILL IS FULL, LOW 80'S DEGREES & STAINED
Bass fishing is good and the bass are scattered all over the lake and the majority of those caught are isolated fish holding tight to cover. Grass mats are still growing off the bottom and the water temperatures are in the low 80's and rising. Have a Zoom Super Fluke in pearl ready and work it fast at twilight and then again mid day. Try fishing in tight to the points and secondary points early and move back as the sun comes up. Before sunrise, look for rising bass and shad or herring. Slow cranking a number 10 or 12 Husky Jerk in Glass Shad or Shad color will catch these bass while they chase the bait fish. By mid day, the bass seem to be holding tight to cover. Submerged stumps seem to be the preferred places to find quality fish during the afternoon. Split shot and light Carolina rigs will catch the bass holding to the tops of stumps and submerged timber.
Ask for a free sample of the BASS FISHING LAKE CLARKS HILL book. Ask for a sample at Send a sample request to ken@southernfishing.com
June 6, 2014
LAKERUSSELL IS  FULL, CLEAR & LOW 80'S
Bass fishing is good. Water temperatures are now in the low 80's during the day. Early morning is still showing signs of a top water bite just inside the small creek and coves in shallow water. Chug Bugs and Skitter Pops will work. Main lake points still seem to be the best places to fish after the sun comes over the tree tops. Carolina rigged and Texas rigged Zoom u tail worms in red shad around any wood on these points will find isolated big bass. The spotted bass are still coming in first place on the crank baits. Shad Raps in shad and fire tiger colors will catch a limit of spots all during the day.
For a sample of the BASSFISHINGLAKERUSSELL book e mail ken@southernfishing.com
June 6, 2014
LAKESEMINOLE IS FULL, STAINED & LOW 80'S BY MATT BATY
Bass fishing is good. LakeSeminole is 81 degrees and the water is fairly clear. There are two good patterns to use, you can either fish the topped out milfoil and coontail with a frog, or look for submerged grass that is growing in slightly deeper water. There are a few grass beds in the flint that are topped out. These grass beds are shallow, so when fishing them power poles come in super handy. The grass is so scummy that the only bait you can fish through it is a frog. Use a regular Spro Bronzeye 65 in natural green to fish over the tops of the grass. Use 60 lb Sunline fx2 braid for this technique. The other pattern takes more practice, but can pay off big time with a little work. With all the spring rains and muddy, fast water, the hydrilla is way behind. It is barely growing off of the bottom in several areas of the lake. Use you Lowrance Structure Scan units to find it and then fish it with either a crank bait or Texas rig worm. For the crank bait, use a Spro Fat Papa 70 in Nasty Shad. For the Texas rig, use 6″ Big Bite Baits Kreit Tail worm in tilapia with a 3/8 ounce Fish Catchin Fool tungsten weight. If you find grass that is growing too high for the crank bait or worm, try a new 1/2 ounce Buddha Blade (www.buddhabaitco.com).
Learn how to use the Lowrance Structure Scan and Down Scan technology with Southern Fishing on the Water fishing schools. ken@southernfishing.com
June 6, 2014
LAKE GEORGE IS FULL, LOW 80'S
Bass fishing is good. Any time of the day fish with buzz baits. When the water is moving a lot, crank baits are working well. Hitting enough ledges with the Shad Raps and Middle N crank baits will work. Crank baits and Carolina rigs produce well all day and use the Mann's 20+ in Grey Ghost and Zoom Ol' Monster worms in June bug. With the water up the early morning the top water bite will still be going strong, main lake grass near deeper water is the key, though a few of the bigger creeks are producing as well. Shallow ledges in 10 to 12 feet of water are prime. It is just a matter of finding active fish to really load the boat up. Water generation helps out and gets the fish grouped up. The mid day bite seems to revolve around brush piles and other available cover where working worms through the stuff repeatedly can work. Learn how to use the Lowrance Structure Scan and Down Scan technology with Southern Fishing on the Water fishing schools. ken@southernfishing.com
June 6, 2014
WEISSLAKE IS AT 0.10 FEET BELOW FULL POOL AND CLEAR TO LIGHT STAINED AND 76 78 DEGREES

Bass fishing is good and most Bass have spawned and a lot of fish are showing up in the grass beds, spinner baits and chatter baits in the grass, is catching a lot of fish, shallow docks are also producing Bass. Spotted Bass are being caught on the ledges on Crank Baits, spinner baits and Carolina rigged plastics.

Striper fishing fair and they are being caught in the upper ChattoogaRiver and in the head waters of the CoosaRiver, above Mayo's Lock and Dam.

Crappie fishing is fair and they are thru spawning and most have moved back to deeper water. Spider rigging with live minnows on the creek and river channel ledges and deep brush in the flats is the way to catch these post spawn Crappie. Shooting docks is producing a few fish.

Now available for sale 50 of my proven GPS waypoints for off shore structure for Bass and Crappie fishing on Lake WeissAlabama contact Ken Sturdivant at ken@havefunfishing.com.
June 6, 2014
LAKE SINCLAIR IS FULL, 84 DEGREES, STAINED UP RIVER, MAIN LAKE CLEAR, BY MATT HENRY, CALL 770 361 4210 (cell) or 478 451 0167 (SINCLAIR MARINA)
WWW.SINCLAIRMARINA.COMMATT@SINCLAIRMARINA.COM
Bass fishing is good. Multiple patterns and techniques are working right now as the fish are still scattered all over the lake. There is still a good shallow bite going on in the pockets in 3 6ft of water in both Little River and the OconeeRiver. Chartreuse colored buzz baits and spinner baits will catch fish around wood cover and sea walls for the first hour of the morning. For the remainder of the morning, throw a Bass Hound square bill crank bait around lay down trees and docks near the mouth of spawning pockets. Midday when the bite slows down, it is time to move out deep or skip plastics under shady docks. A 3/16ounce Buckeye spot remover with a green pumpkin Zoom trick worm has been best for catching fish under the docks. Make sure to get your bait as far under the docks as possible. A Strike King 6xd crank bait in a sexy shad color and a Carolina rigged Zoom trick worm will catch fish on the offshore points and humps. These fish will be in 15 18ft of water on these offshore structures. Give me a call to book your guide trips for this summer. Available dates are booking up fast.
Make sure to stop by our boat showroom and see the 2013 and 2014 inventory of Nitro, Tracker, Sun Tracker, Tahoe, and Mako boats. Anglers only have a few 2013 models! Don't miss out on some great deals! For more information, swing by the marina or give us a call at 478 451 0167.
June 6, 2014
LAKEOCONEE IS FULL, 74 TO 81 DEGREES
Bass fishing is good. Start the day with a buzz bait fished on sea walls and rip rap. This bite will last for the first hr. of day light. After the sun gets up move to the deeper dock on the main lake. Start with dock in 10 ft. of water. Work the docks with a shaky head green worm. A Texas rigged green pumpkin worm will also draw a strike. A mid running crank bait fished down the sides of the same boat docks will also produce. Again this week if Georgia Power is pulling water move to the bridges and work a crank bait or a spinner bait on the down lake side of the bridge.
Line Side fishing by Mark Smith of Reel Time Guide Service.
404 803 0741 or reeltime@bellsouth.net
Line side fishing is very good. The fish are holding in 15 ft. of water on points and humps on the south end of the lake. Use a 3 arm 9 jig umbrella rig fished 100 feet out at 3mph. You can still pick up a few fish on live shad on the same humps but the big number will come on the umbrella rig. The white bass are starting to show up on the humps from sugar creek north. Use your Lowrance to locate the schools on the humps and then drop a spoon down into the school.
Crappie fishing is good. Locate the schools with your Lowrance and then drop a live minnow down to the fish. The fish are located in the timber from 10 to 20 feet deep in the timber.  
Make sure you stop by Sugar Creek Marina and pick up your spoons and all your tackle needs. You can also book your crappie and striper trips with Reel Time Service at 404 803 0741 or reeltime@bellsouth.net. Learn how to use the Lowrance technology with Ken Sturdivant. Free sonar set up ken@southernfishing.com
June 6, 2014
JACKSONLAKE IS FULL, STAINED & LOW 80'S
Bass fishing is fair early in the day. Water temperatures all are already very warm and the bass are on the bank and wood structure early each day. Small top water lures and trick worms around blow down and on docks and wood as well as main lake points have been fair. Concentrate on the lower lake points and around any over hanging wood to find these fish. This cover holds fish all day especially the largemouth. Spotted bass have been schooling early and late and Shad Raps are hard to beat. Just pick your favorite color and run the banks lay down all day. Spots are taking small green crawfish crank baits and Zoom mini craws on light wire hooks mid lake. There has not been much fishing in the rivers. Try at least an hour up the Alcovy and use an all white jig and pig with the plastic or pork trailer and swim the baits around the creek bends and the stumps.
If you would like to have a free set up sheet for your sonar, send me an e mail to kensturdivant@earthlink.net and ask for the Sonar Setup Quick List.
Anglers have these books for sale BASS FISHING ON WEST POINT LAKE, BASSFISHINGLAKERUSSELL, BASSFISHINGWESTPOINTLAKE, and BASS FISHING LAKE HARTWELL. These books are written by Tim White and Ken Sturdivant and each one has over 65 locations exclusively for bass and covers every week of the year. Each book $39.00. If you would like a sample of any book, send us an e mail to kensturdivant@earthlink.net. Our mailing address is Southern Fishing Schools Inc. 106 Hickory Ridge, Cumming Georgia 30040.